Texas Motorcycle Excursions
www.TexasMotorcycleexcursions.com
Hill Country Excursion – Memorial Day Weekend 2012
We try to make a ten minute stop once an hour, alternating between bathroom/fuel and landmarks.
This past Memorial Day Weekend, we did a "Dry Run" weekend excursion to try out and time a little different route. The total weekend is about 500 miles. We stay on less traveled but very scenic routes, and never get on an Interstate. The goal is to enjoy beautiful scenery and not have to worry about traveling in traffic. We travel the speed limit but not over 65MPH. We leave Richmond, Texas at 9:15AM after a 15 minute information/safety meeting, handing out Saturday's map (so those who might wish to break away and hook up with us again at one of the many stops) and to load up the rider's gear in the trailer. The excursion is followed with a 4X4 1-Ton truck and a 24' enclosed trailer capable of carrying all of the rider's gear, the camping gear and cooker, and two motorcycles – should there be a breakdown or sick rider. We also carry limited tools to make easy repairs, and supplies to bucket wash bikes. The allows the riders to have everything needed for an enjoyable weekend, but without having to carry it on their bikes; and to not have a breakdown leave the stranded.
The rider's can bring their gear the day before and pick up the day after at our shop, if they do not also bring a car with their heavy gear. Their gear is generally a travel bag and toiletries, personal sleeping bags & notebook/tablet computer, and even a cooler if they have their special eat/drink needs. Texas Motorcycle Excursions provides nice 4-man (single) and 6-man (couples) tents (we set up and take down while the riders relax), Queen size mattress in each tent, dinner and beverages at the campground, Hill Country music, a quiet generator for power, the camping and shower fees, and WiFi ($10 for the evening) connection.
We start the trip by negotiating less traveled Farm and Market Roads with some nice twists and curves and about 45 minutes later we arrive at Bucees in Eagle Lake to take advantage of their clean restrooms, drinks and snacks, and to top off the gas tanks. About 40 minutes later, we stop for about 10 minutes in the town square of Halletsville. The courthouse in the middle of the square is was built in 1897, and if it looks familiar, you must have seen the movie "Best Little Whorehouse in Texas" — as it was where much of the movie was made.
Our next stop is some 20 minutes later at a beautiful old Catholic Church in Shiner, Texas. The town is famously known for brewing Shiner Beer, arguably the best beer from Texas.
Our next stop is to use the rest rooms and top off the gas tanks at the Bucees in Gonzales, Texas. 10 minutes later we're on the road for our mid-day break for lunch in San Marcos.
At the "Town Square" of San Marcos there is the County Seat Court house, and many excellent restaurants. There is often a Farmer's Market or something else happening in the Square mid-day Saturday. Riders split up to eat lunch at their choice of restaurant, and then browse the square at their own pace. We hook up again 90 minutes later to head on down the road. Those needing more time can hook up with us at one of the later stops (on the map given them) or the campground.
While the riders can have their lunch anywhere they choose, we like the food at Sean Patrick's Irish Pub. There's generally good parking that you allow you keep an eye on your scooter — plus the food from Fish & Chips and to Mexican is great. Vodkas Street is another excellent place to eat in the square, but it may be harder to watch your bike on a Saturday. San Marcos doesn't have a crime problem — but most are comfortable having one eye on their bike.
All rested up — we take some very scenic ranch roads through the Hill Country on our way to the Armadillo Farms Campground in Luckenbach, Texas. We make a stop at a picnic area, and again at Red Stripe for a gas and restroom break between San Marcos and Luckenbach.
We arrive at Armadillo Farms at about 5PM, and Texas Motorcycle Excursions immediately sets up a shelter and chairs for the riders to relax with an Ice Cold Frosty, while we set up the tents, air mattresses, generator, and the grill. We bring a couple of buckets, and other supplies for the riders to clean their bikes — if they choose to do so. Our music playlist is Hill Country music with Waylon, Willie, Jerry Jeff Walker, Merle Haggard, and other favorites from the area. There are outlets to the quiet generator for riders to charge their phones, and there is WIFI access for up to 4 people for $10 per person.
Armadillo Farms is a very motorcycle friendly campground that often has large motorcycle rallies staying there. This is rustic camping (Sans the Electricity from the generator) Hill Country style. The camping/shower fees are included in the excursion. For those who rather stay in one of their cabins as opposed to tent camping, you can negotiate that with them directly by calling Gay at 830 997-5371. We try to have a 6-man tent for each couple, and a 4-man tent for each single. Either of these cabin tents are more than large enough for a couple and all of their gear. Dave grills up dinner, but riders are free to bring a cooler of their own food, and use our grill.
We begin serving breakfast at 8AM Sunday, and we ask that everything is removed from the tents by 8:30 so we can start to deflate the air mattresses, tear down the tents, and fold up the ground clothes. There are two men's and two woman's showers. To be able to leave on time, we need for everyone to be done with their showers by 9:30 — so please get down there as early as possible to avoid the wait. At 9:45 we have a quick meeting and hand out the Sunday map, so those who might decide to break away from the group get the benefit of the best route for an enjoyable motorcycle trip. We pull out at 10AM sharp (ready or not) and stop at a gas station about 5 miles up the road to top off the tanks.
The morning will have the most beautiful and scenic experience of the entire excursion. We take well scouted back roads that have little to no traffic, and nice twisty roads through the Hill Country. Most of the year this route is a sea of wild flowers. We go through the center of Marble Falls and stop to hit the restrooms and top off the tanks again.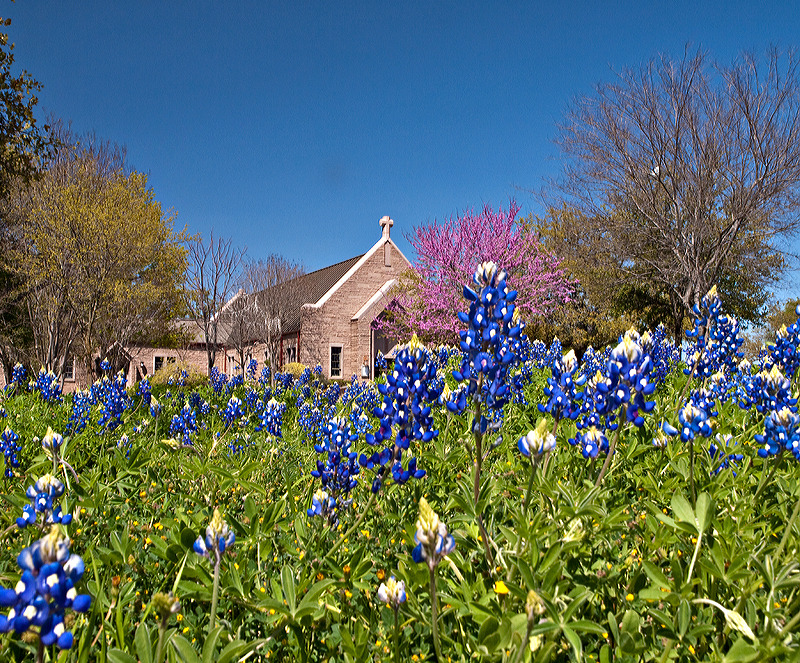 We next go through the center of the Balcones National Wildlife Refugee. The Balcones Fault is what created the Hill Country Millions of years ago. We stop for a little break midway through it.
The Balcones has quite a few nature trails, but timing puts it outside the limit of being able to include a long stop in the excursion, and still shoot for arriving back to the starting point by 4:30. However, those with more time to kill have the option of breaking with the group at this point to go on the nature trails. After the Balcones, the Hill country is coming pretty close to the end. Our next stop is in Georgetown to top off the tanks and use the restrooms. Again it is impossible to to make it home by 4:30 and also stop for a long lunch. The options are to grab a snack or to breakaway from the group to eat in Georgetown, or further down the road in Caldwell. We have one last fuel/ bathroom break in Sealy, before taking the back roads through Willis, Simonton, and Fulshear to out final destination — the starting point. Many bring a car and the motorcycle to the starting point, and can unload their gear at that time, but those who don't have a car or broke away can pick up their gear at our shop.
Saturday we cover 225 miles, and Sunday we cover 275 miles. For Safety, we don't take our tours on the Interstates. However, those breaking away from the group at the Balcones Refugee or Georgetown can make up some time by taking 35S to 71, or 290 to I-10. Not as scenic as the route the group will take on the final leg — but fewer miles and faster.
This is an excellent well scouted out Hill Country excursion, which is laid out on the very best roads for their scenic views, curves, condition, and safety of low traffic. We supply the tents, air mattresses, dinner, basic tools, storage of gear, music, generator, Internet access, chairs, Saturday night beer, cold bottled water, camp/shower fees, and a well guided tour planned to get the most out the weekend without wearing the riders out. We take at least two of these Weekend Hill Country tours a year, but we limit the number of bikes, and they fill up fast. Make your reservations early.
You need to bring your sleeping bag (we will sell you a new one it you don't have one), an overnight bag with your clothes and toiletries, and (optionally) a cooler with your personal food if you have special food or drink needs (you can use our grill). All of this will be carried in our trailer.
$300 for motorcycle and driver
$150 for 2nd rider sharing tent with driver or $200 for separate tent.
50% Deposit at time of reservation, balance 7-days prior.
Rain Date is customer's choice of any future Weekend Hill Country or Texas Independence Excursion in the next 24 months.
| | |
| --- | --- |
| Date | Availability |
| June 9-10, 2012 | No New Reservations |
| August 25-26, 2012 | Available |
| September 22-23, 2012 | Available |
| October 21-22, 2012 | Available |
| | |
| Possible November date depending on weather forecast | |
| | |